Affiliates Pittsburg
Classes of 1930 - 2016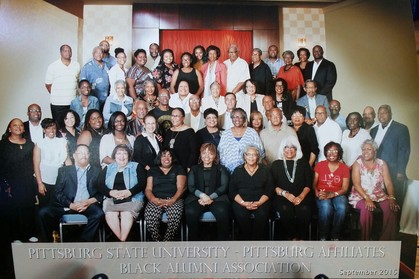 PSU Affiliates Pittsburg Reunion 2015 participants
Saturday Night 9-26-2015
Photo above is Johnny Battles from Texas, Stanford Sigman "Sig" who came from Mexico, and his daughter, actress Stephanie Sigman, came from Los Angeles to join her dad. Stephanie will appear as one of the Bond Girls in the new James Bond movie, Spectre, which will be released this November, 2015. Sig, international baseball recruiter for the New York Yankees and Johnny, Medical Business Professional and PSU basketball star back in the day, have remained friends since meeting at PSU in the late 1960s.
Alpha Phi Alpha Men - Cedric Daniels, computer expert from Arizona and Chuck Owens, Marketing expert from Texas. They graduated in the 1990s. They became Alpha Brothers at PSU.

Photo below is Judge Fernando Gaitan from KC and Phyllis White Henderson, Organizational Development Consultant from Virgina. They graduated in the 1970s.
THANK YOU
THANK YOU
THANK YOU
BERNICE POWELL COTTRELL
AND
CONNIE COLE MCCORMICK
WE HAD A WONDERFUL FUN-FILLED WEEK-END. YOU DID A FANTASTIC JOB.